Do you want to ride faster AND cut down on training time?
This exciting new e-book will showcase how you can develop your own individual training program, so you can pedal away from the peloton and stay clear of the chasing pack.
Time Effective Cycling Training will help you ride harder and faster by doing less training, so you will have more time to spend with family and friends. It will help you:
Define your goals and optimize your training to meet specific challenges
Gain an insight into different types of intervals and customize your training
Understand the sheer power of effective training principles


Time Effective Cycling Training – The Real Deal
This fantastic e-book has been penned by international cycling coach and medical doctor Jesper Bondo Medhus.
Time Effective Cycling Training is the culmination of my years of experience training some of the top cyclists across Denmark. It comes as a downloadable PDF and is designed to help road cyclists, mountain bikers, and triathletes to reach their full performance potential. I am convinced this e-book will make you faster and stronger. Why? Well, it has:
A clear description of the key principles of solid cycling training
A strong focus on what we know and not what we believe
Ready-to-use training programs that illustrate my strong views on making the most of every minute of your cycling training
Time Effective Cycling Training is not a miracle cure or a "quick fix". Instead, readers will get an insight into intelligent and proven scientific training principles that will accelerate their progress. It takes a long-term view: that you can get faster by training less.
How Will You Benefit?
Boost your threshold power
Maximize your VO2 Max
Improve anaerobic training techniques
Tackle the challenging VO2 Max Booster Program
Take on the respected 16-week training program
Understand the principles of time effectiveness when training
Learn the pros and cons of strength training
30-Day Money Back Guarantee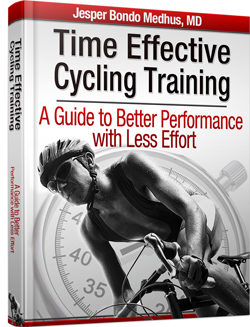 I am 100% convinced you will enjoy Time Effective Cycling Training. I have helped international cyclists reach their full potential; now, I can help YOU. If for some reason, you are not satisfied with the e-book, I will give you your money back within 30 days.
So what have you got to lose? Don't delay. Secure your copy NOW.