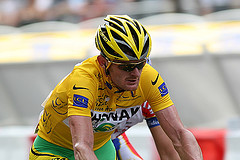 Howard Jacobs, lawyer for Tour de France winner 2006 Floyd Landis, announced today that he will request USADA to drop the charges agains Floyd Landis. The reason for this announcement should be that Mr. Jacobs and his crew of experts have found inconsistencies in the testing protocol and methodology that support Landis' innocence.
"In our review of the documents detailing the tests on both the 'A' and 'B' sample, we have found evidence that supports our request for USADA to drop the doping charges against Landis," said Jacobs. "While I cannot comment on the full details of our findings, we now have the foundation for a very strong defense should the case proceed to arbitration."
It is for me difficult to believe that Landis should be innocent. However, the lawyer has an important point about keeping the result of A-samples secret until the B sample is done and approved. I will follow this case with interest.