Four riders have completed the first 6 weeks of wattage controlled cycling training. In week 1 they performed four critical power tests to evaluate their sprint power, anaerobic endurance, VO2 max and threshold power.
After the initial testing week they have performed four weeks of wattage controlled training based on their test results and personal goals. In week 6 they performed another test week with four new critical power tests performed under the same conditions as in the first.
The four riders have achieved some great results as you can see on the graphs below. I will make my comments on their critical power tests and talk about their future training programs based on these test results later in this week.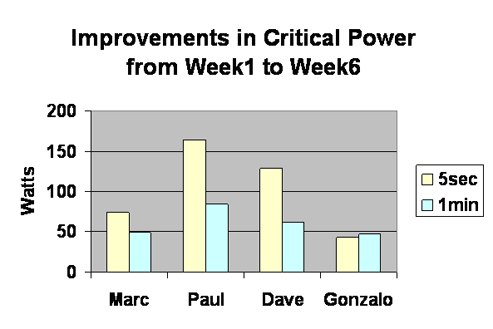 If you are interested in having a closer look on their results in the critical power tests, you can find their numbers here:
Marc Moeller
Paul Skiba
Dave Simonson
Gonzalo Vilaseca
Ps. Thomas Davis has had some troubles with his knee, so he has only just begun on the training program.