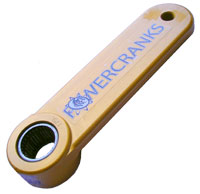 It is very difficult to train the hamstrings and hip flexors on a regular bike. Basically we use most of our efforts to push the pedals down and never to pull the pedals up.
Power Crank offers a different way to train for a better upstroke pedalling power. The pedal arms on the crank work independently of each other, which forces you to work much harder in the upstroke pedalling phase. Now you are forced to make an active upstroke to keep pedalling. That should make you stronger and more efficient.
I can not recommend the Power Crank yet, because I have never tried it and neither have the riders I work with. But hopefully I will try it out in the future.
Better than one leg riding
I have tried to ride my bike with only one pedal clicked in, but I don't think that works very well. It does not feel like cycling and it is difficult to maintain a reasonable speed. Therefore I am quite interested in experiences made with the Power Crank system.
So if you have tried it, please let me know about it. Otherwise, we will have to wait until I have tried it and made a review of the Power Crank.