I have got the chance to take a closer look at the coaching service offered by MyCycling. Their coaching service was launched in 2009 so it's a relatively new product on the market. Please note that the links in this review are affiliate links, thus I earn commission if you purchase MyCycling through these links.
What does MyCycling include?
Training programs. These training programs are based on heart rate monitor training principles with four different target zones. There are programs for beginners, first century riders, advanced programs (10 or 15hrs/wk) and specialized programs/workouts for climbing and sprinting.
These programs are really easy to understand and should be straightforward even for beginners.
Training Advice. There are blog posts from different coaches covering topics related to cycling training. These posts are plain text (no pictures or illustrations) with tips and tricks about sprint training, positioning in the peloton, climbing etc.
Training Log. There is an online training included in the offer so you can keep track of your training data . You can fill in distance, time, body weight, resting heart rate, avg. heart rate, max. heart rate, fitness, mood, power output etc. after each ride and make nice graphs to spot trends.
Note: It's not possible to upload files from your heart rate monitor or power meter into this software.
Resources. Pictures and descriptions of stretching and strength exercises.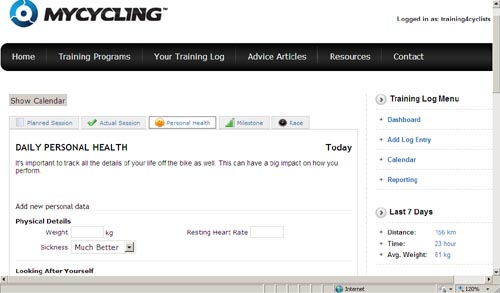 My comments
I think that the concept of MyCycling is interesting and could become a success in the future if they read my comments below because there is certainly room for improvement.
At first sight this product looks attractive with nice graphics and lots of content. Before I logged into the members area I would have expected more of that, but I got disappointed.
The only place where I found pictures was on the page with stretching and strength exercises. They also promised me videos, but they were not there.
Thus, most of the content is plain text, which in itself isn't bad, but it's important to know, so you don't have other expectations.
Still, I would prefer they had used more graphic and pictures to illustrate their recommendations. That would make the articles more attractive and easier to read.
The training programs are simple and easy to understand. I haven't tested any of them, but I believe that most amateur riders can benefit from these programs – like most amateurs can when they follow a training program.
If you are a competitive cyclist, you might need to modify the programs to make them fit properly. If your training amount is larger than 15hrs/week, I would look for training programs in another place.
The training log has a steep learning curve and is quite intuitive to use. It's possible to add lots of details and that's great.
If you enjoy keeping track of details, MyCycling might be the solution for you. Don't expect advanced analysis of your performance. It's more like a descriptive function that helps you to get the overview of your training. Thus, you can't analyze a specific workout if you have a heart rate monitor file.
What you get are the details you enter manually (e.g. sleep, mood, body weight, avg. heart rate, resting heart rate, max. heart rate etc.) These data are not useful when you enter them, but over time, these data become more valuable (trends, overview etc.).
I will not use this training log, since I'm primarily a cycling coach this product is not designed for me, but for cyclists. I hope they will develop more on this training log in the future, because that could make it a tool that I would use for my athletes.
Conclusion
If you are a beginner and follow one of their training programs, it's very likely you will improve your performance. These training programs seem to be based on classic training principles. You might also enjoy the training log where you can keep track of your training.
It's difficult to say what's a fair price for a product, but charging $97 for the above services seems quite fair. If you are unsure whether MyCycling could be interesting for you, I think it's great to know that there is a 60 days money back guarentee if you don't like their product.
As you can read from the above, there are things that could be better. I hope that MyCycling will continue to improve their service, because as it is now, this is not a premium product and I must say that I had expected a little more when I logged in the first time.