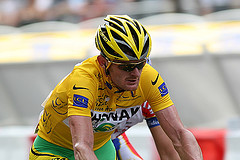 Read more at Floyd Landis Case
In the published material you will find:
Attorney Howard Jacobs' motion for dismissal, submitted to the Anti-Doping Review Board (ADRB) on September 11, 2006
The complete World Anti-Doping Agency (WADA) document package, inclusive of the testing information from Landis' "˜A' and "˜B' samples
A PowerPoint presentation created by Arnie Baker, M.D. with specific reference to the critical points in the testing procedure.
This publication is made of Landis' crew and should be read with a critical point of view.