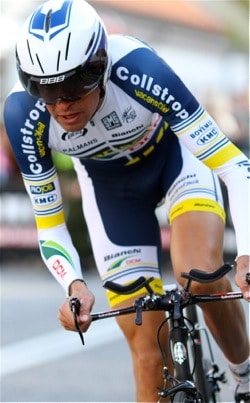 Tactics during the Tour de France are complex and there are many possible outcomes of each stage. Here are 3 tactical moves that are commonly used to increase chances of stage victories. None of these tactics are standalone race-winning moves, but they might play a role in a stage winner's strategy.
1 – Lose time in early stages to improve chances of winning a stage
This is a classic strategy among riders who dream about stage wins in a breakaway. If they can lose time in the early stages they are more likely to be 'allowed' to join a breakaway. Simply because they are plenty of minutes behind in the overall classement and therefore represent no threat to the yellow jersey.
So in the first few stages, riders with breakaway plans have no worries about getting dropped 5 to 10km before the finish line. At that time they have already done their job helping teammates (sprinters / classement riders). Now they can save some energy, optimize their recovery for the next stage (re-fueling and cooling down begins at that moment), and avoid crashes in a stressful race towards the finish line.
2 – Reduce aerodynamic drag while pacing behind a motor bike
This is huge. 'Catching a motor bike' is an important (and commonly overseen) part of the game in the pro peloton.
Both breakaway riders and the peloton are aware of this. The case is that riders can ride much faster (or save some energy) when they are in the range of 10 m or less behind a motorbike. This happens again and again and lasts a few seconds or even up to minutes with comfortable pacing.
When a rider 'catches' an accelerating motorbike he can be pulled up in tempo with very little effort. Thus, riders in breakaways and people at the front of the peloton must always pay attention when cameramen ride past them for close-up pictures.
In time trials the yellow jersey, other high-end riders, or TV darlings can get an advantage because they have better and more chances to 'catch a motor bike'.
3 – Use GPS to their advantage
New technological solutions have secured live timing so breakaway riders, chasing riders, the peloton, and team managers know exactly where their opponents are.
That is a huge advantage for especially sprinter teams because they can make cool calculations about when it is time to make a hard effort at the front of the peloton. Thus, they can use GPS signals to get real-time updates about the time differences, and more importantly, they can estimate when they will pull down the breakaway riders.
For many sprinter teams, it's fine to have a few riders out in the front because that prevents other riders from attacking. Therefore, sprinter teams don't want to pull these riders back too early because that opens up the race for new attacks.
So GPS is normally not an advantage for attacking riders.
However, confident riders may have a chance to bluff the peloton (or more exactly the team managers). If breakaway riders pretend they are going 100% and are close to their limits, there is a small chance that they can surprise the peloton as they begin to chase. Instead of being pulled down (app. 1-1.15min per 10km) breakaway riders now hit the gas pedal and ride faster than expected by the peloton. It might extend their journey for a few km, or at best, all the way to the finish line.
Let's see if you can spot any of these 3 tactics in this year's Tour de France.