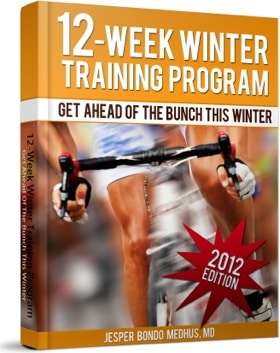 Are you ready for the winter season? Just imagine starting next season faster, fitter and stronger than your rivals?
My popular '12-Week Winter Training Program' has been through a significant update and is now – finally – available.
You can read more about my new e-book here:
What's inside? How will you benefit?
Tackle the exclusive 12-week winter training program
Learn how to pedal 10 hours a week by following the program
Understand how to maximize the benefits of spinning classes
Learn how to integrate strength training into your winter regime
Gain personal e-mail support from myself
The 12-Week Winter Training Program is based on tried-and-tested training principles and is packed with fantastic tips that will help you perform to your maximum potential.
Get your copy now: