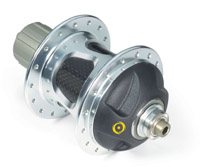 1. Watts
First of all, power meters are getting popular because they are way better than heart rate monitors for monitoring your training. Power output is an objective measure of exercise intensity representing the actual work in the pedals.
The PowerTap SL collects enormous amounts of data during your training ride. This data gives you an excellent opportunity to optimize your training and analyze your race performance. These analyzes can be time-consuming, but it is here you get the value for your money.
2. Lightweight
PowerTap SL is a lighter version of the original PowerTap. The weight is reduced by combining a carbon hub shell with a new lightweight aluminium axle connected to the hub. The complete system now weighs 480g, including the computer.
Saving some weight has a lot of attention from high performing athletes because no one wants to carry heavy equipment that doesn't provide extra speed for their bike (at least not immediately). The hub has a slightly heavier weight than Dura-Ace and Campagnolo Record, but that shouldn't have much influence on the overall performance and especially not with the current rules weight limits from UCI (minimum bike weight: 6.8kg).
3. Price
In many years SRM was the only provider of power meters, but only professionals (or rather their sponsors) were willing to pay the price of these power meter cranks. Now you can buy a PowerTap SL for a lower price than the cheapest version of the SRM crank (amateur version).