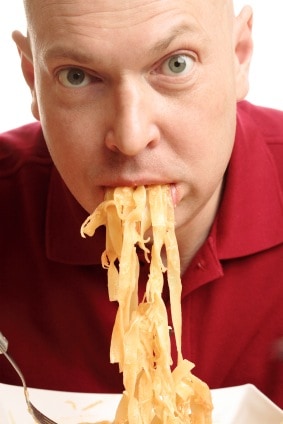 Most cyclists and triathletes have heard about and experienced the consequences of insufficient carb-loading before races.
Carbohydrate loading has been used for many years to boost performance in cycling races lasting more than two hours in duration.
While there are various methods of carb-loading, the process basically involves consuming large quantities of carbohydrate-rich food in order to fill the muscle glycogen stores.
More muscle glycogen protect you from (or delay) exercise-induced hypoglycemia and help you to exercise longer at high intensity.
Please remember to practice your carb-loading plan well before your priority race.
Since carb-loading only last a few days there are no reasons to worry about that some minerals and vitamins are not represented sufficiently in your carb-rich diet.
After the race you return to your normal, balanced diet and that's fine.
It is important to know that when you carb-load you also increases your body mass. It is estimated that every gram of glycogen stored is associated with app. 2.7g of water. So you can expect a body mass gain of app. 2kg when you are fully loaded with carbohydrates. This is important to know and may influence your decision on whether you should carb load or not.
Many experiments have been performed to find the perfect method for carb loading before races. The best known method is the carbohydrate-depletion/carbohydrate loading method. The theory behind this strategy is that exercising to exhaustion 6 days before your major race combined with a low-carb diet until three days before the race depletes muscle glycogen.
When your glycogen stores are completely depleted the theory is that your muscles are hungry after storing glycogen and are able to 'super-compensate' the last three days before the race. So it should be possible to store even more glycogen than through regular carb-loading procedures.
I've tried the depletion-load method once and I ended being well loaded for the event.
Though, it is a bit problematic to train to exhaustion just 6 days before a major race followed by low-carb dieting. That's not optimal tapering. So the carbohydrate-depletion/carbohydrate loading method works best in theory. And the theory has not proved to achieve higher glycogen content than regular 3 day carb-loading in scientific studies.
In practice you can reach full benefit from carb-loading just three days before your major race:
Here is my advice for optimal carb-loading:
1) Consume for 7-10g carbohydrate per kg body weight per day.
If you are highly trained you should probably aim for close to 10g/kg body weight /day the last three days before your race. If you are out late, it is still possible to achieve great results with just one day concentrated carb-loading.
2) Minimize fibre-rich food
Since many carbohydrate sources contain fibres, you may need to prefer carbohydrate sources with a low content of fibres. Large quantities of fibres may cause flatulence, diarrhea, gastric and gut discomfort.
So it is recommended to choose a high-carb, low-fibre diet (white bread, white pasta, white rice, liquid forms of carbohydrates etc.)
3) Increase fluid intake
As mentioned above, carb-loading is associated with water so you'll need to drink more fluids to stay well hydrated. Fluids can also be seen as a source for carb-loading if you don't want to eat pasta all day long, e.g. soft drinks, juice, sport drinks etc.
Again, make sure to test your carb-loading procedure BEFORE you enter an important race. We are all different and you might need to make individual customization to get a perfect diet plan.
Finally there is a sweet little ninja trick that may boost your carb-loading:
When I have athletes at cycling races I always ask them to do a short, high-intensity interval the day before. This is both mentally and physically a great way to prepare their bodies for competition.
In the mirror of carb-loading this little trick also increases the glucose uptake at a minimal cost of muscle glycogen.
Thus, you might end up maximizing your glycogen storage and being physically and mentally prepared for action.
Cool, right?