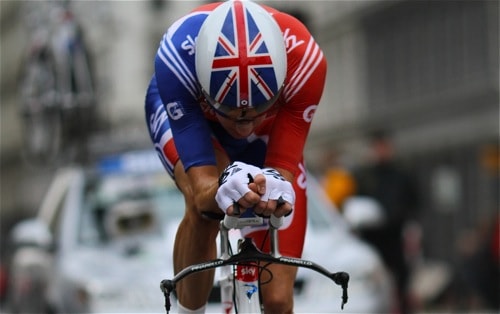 Power meters like SRM, Ergomo, and Powertap are handy if you want to optimize your training and start getting better results. However, before throwing away all your pocket money, consider how serious you are with your training.
If you find it very difficult to stick to a rigid training scheme, doing specific intervals in heart rate target zones, then a power meter might not be the best choice for you.
If you think that analyzing your performances or journalizing your training sessions is a waste of time, then you are probably not ready for cycling with a power meter yet.
If you get excited when you turn on your computer immediately after parking your bike watching your heart rate file, then you will likely be even more excited about the data from a power meter.
If you like to make training plans or have a cycling coach who works out plans for you, then a power meter will be a potent tool that allows you to make better training plans.
Power meter training starts a new era
Like the heart rate monitors started a new era back in the '80s and got mainstream in the mid-'90s, the power meters began a new one in the early '90s and are now getting popular among amateur riders here in 2006. The SRM crank system was initially the only power meter system, but now there are a couple of other systems on the market. Powertap and Ergomo use different technologies than SRM's crank system, but they precisely measure watts. SRM is the most expensive system, while Powertap and Ergomo are less expensive. I will not make further comments on the differences between SRM, Powertap, and Ergomo but instead save my words for a review later.
You need to know that there are different technologies and different prices. But, generally, they all allow the workload to be measured correctly.
In the first couple of weeks, I recommend continuing to train as usual. However, it will be an excellent education for you to spend this time studying how quickly the power meter reacts to your effort. People get surprised when they accelerate the bike for the first time and discover that they are pushing more than 500W (for a short while, naturally.
After a few weeks, you will be getting more familiar with your new equipment. You are now ready to make your first observations with this powerful tool.
Before you can start doing intervals or pacing with your power meter, you have to make a test of your physical performance. To make things easy and time-saving, I recommend doing a 5 minutes all-out test to measure your watt max.
You can use the software that follows your power meter or use a software system like Cyclingpeaks, which offers more opportunities. After your 5 minutes all-out test, you have to figure out your average power output. Please notice your body weight since this is an essential factor when comparing test results.
You can now make your first training program based on test results from your power output.
Make maximum power tests to define your intervals
It is possible to convert your test result to shorter or longer intervals. There will be less accuracy depending on what kind of rider you are. Some people can keep a high percentage of their VO2 max for a very long time, and others who are much better at shorter distances can perform impressing high average watts for short intervals.
Therefore this table is only a guideline, and the best way to define your target zones is to do a test at that specific distance. For example, if you are a track rider and are training for 1km time trials (anaerobic endurance and strength), you will have to test your power output at that distance.
| | | |
| --- | --- | --- |
| | Power output | Training examples |
| Sprinting | 200-?? % | 5 x 150m (complete rest) |
| Anaerobic endurance | 100-130% | 5x(1+6min) |
| VO2 max | 90-105% | 3x(3+2min) |
| Threshold | 85- 90% | 3x(8+4min) |
| Endurance | 50-85% | 3 hours |
| Recovery | 40-50% | 1 hour |
Next time you go to a race, use your power meter to collect data from the race. You will see that you spend time in all the target zones in the table. Then, have a look at the decisive parts of the race. This investigation is an essential part of having a power meter, and it is here you can discover things you would never have found out.
You can see the difference it makes in crosswinds to sit behind a bunch of riders compared to suffering in a long line. When you see that big difference, you will try even harder to keep your good position in the bunch in the crosswinds next time.
Time trialists uses watts for pacing
Time trialists love to train with power meters because they can see exactly how well they perform and make it easier to see progress. With a bit of training, it is possible to use the power meter as a pacer during the time trial. In this situation, they can compare their physical performance from time trial to time trial. These data files are not affected by the wind, course, or equipment, so they are beneficial to see how the form changes.
If you have a velodrome in your neighbourhood, you can make aerodynamic tests to improve your position on your bike. Serious time trialists should consider this and at least give it a try.
Testing in a wind tunnel is costly, so testing on a velodrome with your power meter might be a cheap alternative. You will need at least one assistant to take split times for each lap when you do the tests. With some training in this setup, you can try different positions and equipment and see which combination saves the most watts.
Using a power meter is the more challenging part, but I promise that it is very satisfying when you save a couple of watts.
Power Meters for Pacing Control
I usually recommend serious riders use a power meter to optimize physical performance. So it is possible to control the workload very precisely.
There are a lot of riders who start too fast in intervals and then slow down in the last part of the interval. The problem is that the first part of the interval requires a significant amount of anaerobic work that they get exhausted too early. As a result, they reduce the pace and can't maintain the power output needed to stimulate the aerobic system sufficiently.
The result is that the interval subjectively is a challenging experience but objectively a poorly controlled aerobic interval. Knowing how many watts they can maintain over a given period makes it much easier for them to control the pace during the interval.