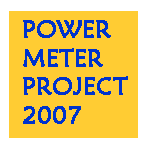 Training4cyclists.com offers power meter users a great opportunity to improve their performance. From 1st of January 2007 a group of riders begin a 12 week program based on wattage controlled intervals. If you are interested in joining this free project, please contact me in the form below. I can not tell you how many people get involved in this project, but if you are motivated and a have a calibrated SRM or Power Tap on your bike, there is a good chance you can be invited.
Please include:
"¢Â Your name
"¢Â Your power meter (SRM, Power tap, etc.)
"¢Â Your current training amount pr week.
"¢Â Your 5min critical power (Watt)
"¢Â Your email
"¢Â Additional info
Riders involved in this project will get a free 12 week personalized training program based on test results. These tests will be performed in the end of December. Training4cyclists.com will publish reports from the tests made during the period and are allowed to publish data from all riders included in the project.
Any suggestions for these case studies are welcome.
Registration for The Power Meter Project 2007 has closed!