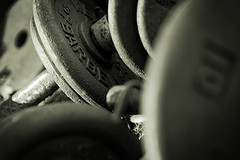 Why do you recommend cyclists to train like weight lifters (few reps)? Wouldn't it be better to train for strength endurance with 8, 12 or more reps?
Maintaining low body weight is essential in road cycling and mountain bike (Watts per Kilogram) since carrying extra pounds (dead weight) decreases your performance. That is the same situation for a weight lifter competing in a weight class. If the weight class is
It is correct that the rep range is often used in power sports, but the people interested in additional body mass (bodybuilders) work much more in the rep range from 5 to 12.
Sets of few reps apply very little damage to the muscle fibres (protein degradation). This damage usually is one of the parameters responsible for stimulating the muscle fibres to grow. By avoiding this protein degradation, we can minimize the stimulus to hypertrophy. Also, there is a couple of other ways to reduce or completely avoid additional body mass but still get stronger.
If you decide to strength train this winter, I highly recommend you read my series about how you can get stronger without adding additional muscle mass.
Ps. It's not certain that cyclists have to lift weights at all. Most riders will benefit more from extra bike training.