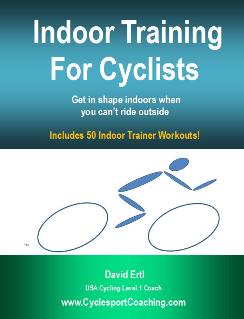 David Ertl has made an ebook about indoor cycling training to provide you with tips and tricks for your indoor training sessions. Ertl is a USA Cycling Level 1 certified coach. This is the highest level of education as a coach offered by USA cycling.
Now let's take a closer look at what Ertl has written about.
The ebook starts talking about the differences between indoor and outdoor training. Indoor training is not enough if you want to be a strong cyclist.
Ertl doesn't try to hide this fact, though he illustrates the situations where indoor training can be helpful/adviseable. I think that is a fair presentation of the benefits and limitations of indoor training.
The following chapter looks at different ways to train indoor cycling (spinning, ergometer bike, rollers etc.)
Most cyclists are probably already able to train at least one place indoors, but for inspiration, you can read about different alternatives to your preferred indoor training solution. This chapter is not the most interesting, but I think it's a mandatory chapter in an ebook about basic principles for indoor cycling training.
50 Different Indoor Training Workouts
After reading the first introductory chapters, you will probably find the section about workouts much more enjoyable. Fifty different workouts are done specifically for indoor training.
I think several great programs can be completed within 1hour of effective training. I like that. The workouts are themed, so you can pick precisely the activity you are looking for.
E.g. If you want to do threshold intervals, pick one of the threshold workouts, and you will have a great and time-effective training session.
Pros: There are more than 50 different indoor training workouts in this ebook, including recovery, leg speed, endurance, tempo, threshold, anaerobic, strength and power workouts.
The training programs can be performed using either a heart rate monitor, power meter or just by perceived exertion. That's great.
Cons: It seems a bit odd to recommend a submaximal test (for healthy reasons) when 2 of the six training zones are performed above this training intensity. The layout could be more user friendly. I would have preferred some graphic illustrations for the workouts.
Conclusion: This ebook is a cheap way to get some inspiration for your indoor workouts. The workouts are themed, so you can pick precisely the workout you are looking for. Click here to buy Indoor Training for Cyclists now.