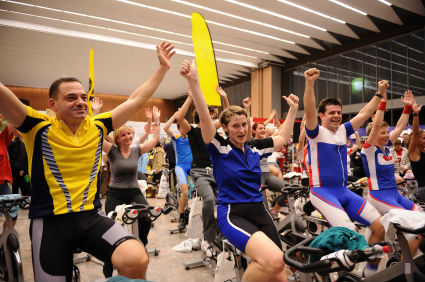 It's an interesting question because of spinning's popularity and the fact that many serious riders enter spinning classes frequently in the winter season.
I believe most people can benefit from spinning classes. Spinning bikes are different to ride than regular road cycling bikes, but the physiological adaptations are so close to adaptations from road cycling. Thus it's almost certain you will improve your cycling performance when you enter a spinning class.
Though I have to say that it's impossible to compare 1hr spinning with 1hr road cycling. There are many external factors that will influence on your perceived exhaustion (temperature, humidity, music, instructor etc.) Thus, you might very likely subjectively feel you've worked harder than you objectively have (a power meter might tell you a different story…)
Also remember that most spinning lessons are made with fitness people in mind. The spinning instructors want to entertain and train people who enter the fitness room once or twice every week, not cyclists who train 8, 12 or even more hours per week. I don't think it's a bad decision, but it's worth to remember when you are road cyclist with a much larger training amount and a different goal with your training.
I have previously outlined how you can achieve better results with spinning and these recommendations illustrate why some riders might end up with the conclusion: "Spinning is not for real cyclists".
I disagree with the above conclusion, because all cyclists can benefit from spinning classes if they remember the differences between regular cycling and spinning.
Share your experiences
Please write a comment with your experiences with spinning and how you integrate spinning in your training routine.