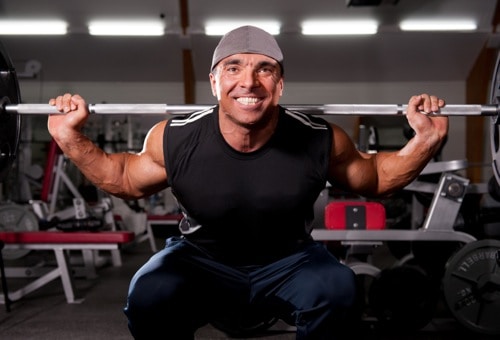 If you have decided to enter the gym this winter, implementing squats into your training program is challenging to avoid. However, this exercise is the best way to increase your leg strength in a very practical way. If you only have time for one activity, perform some good squats.
I tested a strength training program with squats as the primary (or sometimes only) exercise. It was time effective, and the rider reached similar strength levels as previous years when he had done several other activities.
Therefore, I recommend that squatting should always be the bread and butter exercise in a cyclist's strength training program. That is why you might have heard squats mentioned as "the king of exercises."
However, strength training is not that time effective and is not recommended if you want to be ultra time effective.
Actually, it is counter-productive to speed up to high-quality strength training sessions because the recovery periods are essential when you build neuro-muscular power.
Heavy Weights Matter
First of all, you have to reconsider how to make your muscles stronger. The short answer is that you have to lift heavy weights frequently. If the weights aren't heavy enough, they will not force the muscles to make neural adaptations or hypertrophy.
The good thing about squats is that it is possible to work with heavyweights, which puts enormous stress on legs, calves, hamstrings, glutes, and abdominal and back muscles. But, as you can see, most of your body is working in coordination to lift the weight.
Can you imagine what this exercise will do to your overall strength?
You will get a significant boost not only for your leg extensors (quadriceps) but also several other essential muscles at the same time.
Functionality
Non-functional exercises are challenging to convert to something useful in your cycling. This is because strength training is teaching for your nervous system.
Here is an example: If you compare an elite tennis player with a pro golfer: who will win the match if these elite sportspeople play badminton? That would probably be the tennis player because tennis is a racket sport similar to badminton.
So the tennis player gets an advantage because his nervous system is optimized for movements that are similar to those in badminton. Therefore, it is easier for him to convert his tennis skills to badminton than for the golfer to start playing a racket sport.
Squatting is a lifting style closely related to pedaling and therefore gives you the best opportunity to convert strength gains made in the weight lifting gym to better cycling performance.
On the other hand, commonly used exercises such as leg extensions (or even worse, leg adductions or abductions) are single-joint movements that are very difficult to convert into cycling power. Therefore, leg extensions should be used only by cyclists with injuries and otherwise left for people who don't know squats' power.