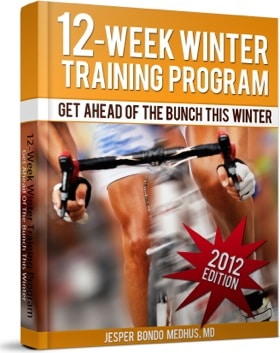 Now it is more than 4 months since I launched the updated version of my popular 12- week winter training program.
The 12-week winter training program has actually been available since 2007 as a free version.
Why?
Because having thousands of users leaving feedback for me about this training program, I've gained more information than it is possible for me to get through individual coaching.
Because so many riders tried my different versions of the winter training program (and gave me important feedback), I have been able to develop the ultimate winter training concept.
The old version didn't have any training zones for pacing, but used generic terms to describe intensity: 'hard', 'very hard' etc. That way all cyclists were able to use the winter training program (and leave feedback for me).
Though, it has also been my experience that many cyclists misunderstood vital parts of my training strategy because of this. Most riders use a heart rate monitor during training as their primary tool for pacing during intervals. That's a great tool for pacing, but it is now clear for me that I should have been more precise about what intensities I wanted people to train with during the winter.
12-Week Winter Training Program is packed with information
The 12-week winter training program is not only a training program, but also an e-book packed with additional information about the reasoning behind the training program. There are more than 102 pages in the new version. Here you can increase your knowledge about the strategies I use in the 12-week winter training program.
Now I've found a couple of unique training methods that help a broad range of riders. And it is easy to customize so it fit into your daily life. So the training structure I recommend benefit elite riders as well as 60 year old recreational riders. It is a training system that has been helpful to people who have "seen it all" when it comes to cycling training.
One more thing that I've learned from my readers is that every individual is… an individual. We are all different. We all have different physiological talents, different goals and perspectives.
And that's why I decided to offer individual email support for this training program. Because I can help people achieve their goals (and continue to gain information about what challenges people struggle with).
Take, for example, Jakob Bering.
He is not a standard athlete.
Actually, he has been representing the Danish National team as U23 rider, won the team competition in Tour de l'Avenir, 2x gold medal at MTB Junior National Championships etc.
Not exactly your "average" person, is he?
Probably, he's the rider who have tried most (if not all) of my training programs and strategies.
This winter I decided to let him try the 12-week winter training program as it would work for all other athletes who download this e-book. He didn't have access to any additional coaching options or else.
And here's what he says:
"It is easy to understand and read the training program. There are challenging intervals sessions three times per week and it is easy to combine these interval sessions with for example indoor cycling, spinning or mountain bike training. Currently I train app. 7hrs per week and feel very competitive even though my training volume has been less than 1/3 of many of my competitors."

Jakob Bering
There you have it. Proof that the 12-Week Winter Training Program is NOT just more of the usual suspect info.
It is no secret that Jakob Bering knows my training philosophy in and out, so it wasn't a big surprise for me that he liked the program.
Thus, it has been even more enjoyable for me to see that so many other riders have improved their endurance this winter 2011/2012.
Here are a few more testimonials:
Well, I finished the winter training program and am now starting the first week of the pre-season training program. Last night (Tues), I decided to go up and ride with the club on their race ride to see how I was performing relative to the group, and my past (relative) performance. To summarize: I was able to fit right in with the racers-something I could NEVER fully achieve in the past! I was thrilled with the improvement, with several racers taking note of my improvements and asking if I was training in the winter. That was a great feeling! 🙂

I noticed my HR was significantly lower than in the past-staring mostly in my endurance range or in my sub-threshold range-rather than how it was in the past (nearly all in the sub-threshold or threshold range, creeping up into the V02max range before I would blow myself up and get dropped). I also noticed my HR would recover much quicker and to a lower range than in the past. In short: my fitness has obviously improved greatly! I'm thrilled.

Sean Haggerty
I've followed the plan to the letter with a minor blip on Valentine's day
🙂 and my threshold power has increased by 60 watts (30%) My average power output with general riding is also up by 25%. Amazing what a little focus can do.

Mark Wright
This book is well laid out, provides the relevant detailed information for a rider from 4th through to 1st Cat, to structure and develop themselves and their commitment to training and racing into a productive and professional system. We would recommend this book to all levels of cyclists. Enjoy the miles!

Jonathan Gibson, SportsExerciseEngineering.com
Download your copy now
The 12-week winter training program is currently priced at $17. Since this price includes free email support from me, it should also be obvious for everyone that you get value for money. And at $17 it is a bargain: in fact, it costs less than a decent cycling helmet.