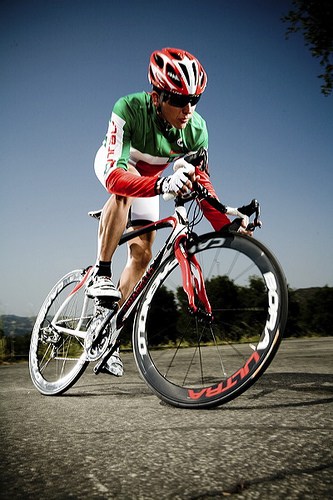 I'm happy to announce a new training plan here on Training4cyclists.com. It is a bike training plan developed for serious road cyclists with ambitions to ride a little faster.
This training plan will improve your performance within 6 weeks. It's going to be a tough training plan to complete so don't enter this training plan if you feel unsure. It's a demanding training plan, but its is not unrealistic to complete.
Actually, the 6-week training plan is designed to increase your chances of completing the training plan as intended.
Week 1: Add training volume
Week 2:
Week 3:
Week 4:
Week 5:
Week 6:
Week 1 – Tiny increments in training volume
The 6-Week Training Plan is made for riders who train on avg. 7hrs per week. The goal is to increase your training volume over next 6 weeks. Small increments in training volume each week will make a significant improvement when they are all added together. These increments are almost invisible and you won't notice anything the first two to three weeks. But these increments work as you continue to add more depth to your training volume.
When your training volume per week goes up, you'll reach a higher level of aerobic performance. As mentioned before, adding more hours is one of the most effective methods to improve cycling performance.
This training plan will make you faster and fitter, and ultimately increase your chances of winning a cycling race.
If you train less than 7 hrs / week, you should adjust your training volume accordingly. Training sessions in orange are the most important parts in this training plan while training session written in yellow can be removed if you need to reduce total training time.
If you train more than 7 hrs / week, you should add more hours to the training plan. In week 1 you can add more volume on all days.
If you are used to a training volume of more than 12+ hrs / week, the 6-week training plan might very likely help you too, but personally I would suggest a more specific training plan based on your current fitness and ambitions. Also, if you have a significant training volume, you should consider to implement some kind of periodization (recovery weeks etc.).
Intervals based on performance test
Before you enter this training plan, you'll need to estimate or measure your current power output at threshold power. For practical purposes this can be done with a 30-min performance test where your average power. This 30min performance test might at least in theory overestimate your 'functional threshold power'.
However, from a practical point of view a 30-min test is a secure and proven method used to calculate intervals. During the performance test it might be necessary to adjust your pace slightly, but that's how performance tests are. Also, remember that a 30-min performance test is a great training session in itself.
You can find more information about training intensities here.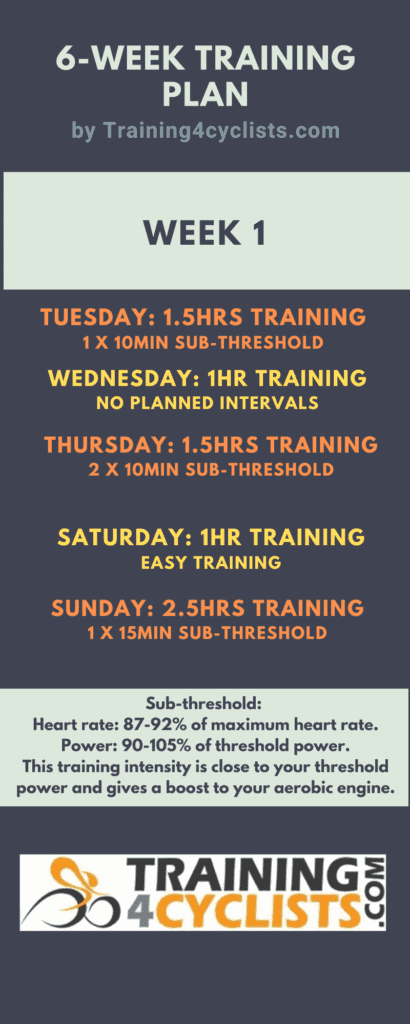 Example, Thursday week 1:
1.5 hours – 2 x 10min Sub-threshold

20min warm-up (start slowly and work your heart rate up in small steps to about 80%)

10min Sub-threshold (80-87% of maximum heart rate / 80-90% of threshold power)

5 to 10min recovery ( <65% of maximum heart rate / <55% of threshold power). If you need more recovery time for any reason, no problem.

10min Sub-threshold (80-87% of maximum heart rate / 80-90% of threshold power)

30min Endurance training (65-80% of maximum heart rate / 55-80% of threshold power)

10min cool down (<65% of maximum heart rate / <55% of threshold power)
Sub-threshold intervals are a safe and great method to develop a solid aerobic engine. Because they are performed at an intensity safely below threshold power, you can perform impressive amounts of these without overshooting.
Also, there is no reason to stress too much about length of recovery between intervals. Most often 5 to 10 minutes would be fine, but you will also achieve great results with shorter or longer recovery.
I have defined sub-threshold intensity as 80 to 87% of your maximum heart rate indicating that you can make these intervals quite easy as well as quite difficult. There is room for personal fitting. It's clear that there is quite a difference between 80 and 87% of maximum heart rate.
Some days you will appreciate a light 80% workout and some days you will push yourself to the limit with a 87% workout.
Use your best judgement to decide the right intensity.
If you use a power meter as pacing tool, I suggest you aim for 80 to 90% of threshold power during sub-threshold intervals. Again, it is worth to remember that there is a significant difference between 80 and 90 %.
It is clear that pacing with a power meter is much easier, but in most cases it is possible to learn how to get the right pace for threshold intervals using a heart rate monitor or simply just your gut feeling. Experienced riders know how to pace themselves in a sub-threshold interval because they have performed tons of them.
However, in the end it is up to you to decide how hard you want to push yourself through these intervals.
That's it for week 1. Stay tuned for week 2.
If you like this training plan feel free to share this link with your friends:
https://www.training4cyclists.com/6-week-training-plan/