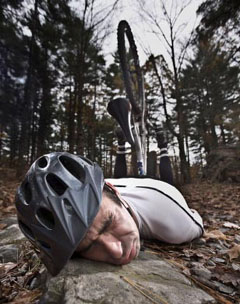 October is a month without much activity for European cyclists. In most countries, race season ends now or has already finished.
From now on, there is winter break for almost 5 or 6 months, depending on what country you race in. There are some things that I have learned that are nice to do at this time of the season that might help you to achieve better results in the next season. However, I have also made some mistakes in my career that I will warn you not to do…
Evaluate your training diary
Evaluate your season with your coach or cycling buddy. Talk about the expectations and goals before the season starts and discuss whether the outcome was satisfying. What went better than expected, and what could have gone better?
Try to figure out why things did go well or why they didn't.
It is an excellent idea to look at your training reports in your training diary because that tells more about how you felt and how much you trained and suffered than just looking at the result list. Also, it is worth finding out if your peaking strategy for specific races worked out.
Take a break from cycling training
A common mistake is when a rider ends a season with a good result in a race.
I remember once I won my first race the weekend before the season ended: I started to train very hard immediately after the season ended to maintain my good form and prepare for the next season. That went well for about a month, and then I finally could hear that my body was screaming for rest.
At that time, I had to take a break from my cycling training instead of starting up slowly on my winter training. The lesson I learned was that it is necessary to significantly reduce your training amount when the season ends because it is impossible to maintain the same high level of performance all year round.
Make a plan for the next season
Now you have the time to write down goals and make a detailed plan for next season. I usually recommend selecting two or three specific race days (or periods) where you want to be at your highest level. Then, find out how much time you can spend on training and how you can get the best results with the time you have.
When you know your goals and what time you have to achieve them, it is time to make a detailed training program. I recommend that you discuss your training program with a cycling coach to get a second opinion on your plans. Both your goals and your training plan must be realistic. Otherwise, you will very likely get disappointed.