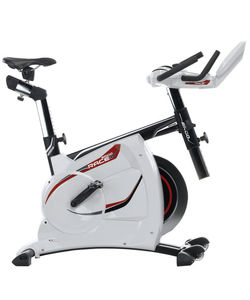 I have used ergometer bikes during the winter months for many years to optimize interval sessions and training load for my cyclists.
Most ergometer bikes offer riders an excellent opportunity to pace themselves based on their power output.
If you go to your local gym, you can try to maintain, for example, 250 watts for 12 minutes or something similar. You can then use this number as a yardstick to measure your performance and push yourself harder. Crucially, this training method will also help you learn to maintain a smooth pace throughout interval sessions.
So if you have never considered yourself a candidate for power meter training, it's well worth giving it a try on ergometer bikes during the winter months.
The rise of power meters
Power meters sparked a new craze among cyclists in the early 1990s and were still very popular among riders in 2011. The SRM crank system was initially the only power meter system, but now there are several alternatives.
But power meters are costly, so there is a brilliant alternative in the winter months if you do not have the budget to splash out.
The ergometer alternative
About ten years ago, winter was the only part of the year I used power meter training principles.
My training strategy was based on perceived exertion and heart rate monitor training. As a result, my training programs were more successful during these winter periods compared to the summer. The reason? The intervals were better and had a more individual and tailored fit.
That is one of the reasons April has always been the best month for most of the riders I have trained. It has been easier for me to monitor their progress and individually tailor their training load using power outputs from the ergometer bikes.
Ergometer bikes are also great for performance tests. I have always believed in this since my early days as a coach. Testing my riders' performance in this way means optimizing their training programs based on my empiric data stream.
It is often impossible to take any records or digital files from ergometer bikes, but they are still a splendid tool for performance testing and interval purposes.
So the opportunity to use ergometer bikes during the off-season should be a no-brainer for you: get the most obvious benefits from power meter training during the winter without spending a fortune on an SRM training system.
What are your best power outputs on the ergometer bike this winter? (please add your performance test scores in the comments section)