This article is a guest post from Shim Ravalia, who studies a master's in sports rehabilitation at the University of Kent (Gillingham, Medway). Now she is proposing a study on the effects of soy milk and semi-skimmed milk in the recovery period after exercise on trained male cyclists by looking at the time to exhaustion. Participants who are regular readers here on Training4cyclists.com are included in this project.
Enjoy her detailed review of the current knowledge about recovery drinks.
Is soy milk a better recovery aid compared to semi-skimmed milk after exercise?
Does it increase time to exhaustion in trained cyclists?
The efficacy and importance of a recovery drink when balanced with training have to be deeply considered. The body is in a state of stress and needs a lot of nourishment after exercise (Carlson, 2008). The body is dehydrated, the blood insulin levels are low, and cortisol and other hormones levels would be high; more importantly, the glycogen stores would be low or completely depleted, and muscles would be breaking down (Ivy & Portman, 2004). This should be reversed by the nutritional strategy implemented.
Milk has been seen to be an effective recovery drink simply because of the components it has. Milk contains both whey and casein protein; whey is considered as to be a high-quality protein and is more soluble than casein protein which also has a higher-quality rating. Around 20% of whey is found in milk, and 80% of casein is also found in milk (Pasquale, 2008).
Research has shown that the adding of protein to a carbohydrate drink is just as effective as a carbohydrate-based drink for recovery after exercise; although carbohydrates is unquestionably of major importance, proteins are now considered to be of larger importance than previously thought (Niles et al, 2001).
A study by Saunders, Kane & Todd (2004) looked at the effects of a carbohydrate-protein drink on cycling endurance and also looked into muscle damage. The main aim of the study was to see if cycling endurance performance changed and post-exercise muscle damage changed when the carbohydrate-protein drink was ingested in comparison to a carbohydrate only drink. The results showed that with the first ride at 75% of V02 peak, the participants rode for 29% longer with the carbohydrate with protein drink than the carbohydrate drink. In the second ride, at 85% V02 peak, the participants rode for 40% longer with the carbohydrate-protein drink; to add to these findings, the level of muscle damage was 83% lower with the carbohydrate-protein drink.
To support the above, Niles et al. (2001) looked at the effects of a carbohydrate with protein drink improving time to exhaustion after recovery from exercise. With the ingestion of a carbohydrate-protein drink or a carbohydrate only drink, the overall results showed that the carbohydrate-protein drink gave higher insulin levels within 90 minutes into the recovery period and time to exhaustion was also longer in comparison to the carbohydrate only drink.
A very important study by Karp et al. (2006) looked at the effects of chocolate milk as a post exercise recovery aid. By using 9 male endurance trained cyclists, the study compared chocolate milk, a fluid replacement drink and a carbohydrate replacement drink. The participants went through a glycogen depletion trial followed by a 4-hour recovery ending on an endurance trial. The results showed that the time to exhaustion and total work performed during the endurance performance trial were greater with the chocolate milk (15 minutes greater) and the fluid replacement (16 minutes greater) trials than the carbohydrate trial. The participants rode 49% and 54% longer with the ingestion of chocolate milk and fluid replacement trials despite the carbohydrate content in the drinks.
Â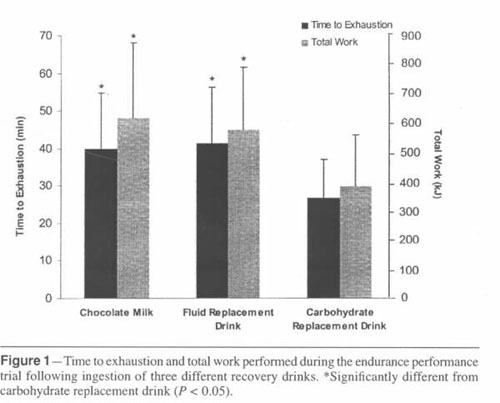 To add to the concept of using milk as a recovery aid, there has been new and limited research done on the possible benefits of using soy milk; although research is still limited in terms of the use of soy milk in endurance exercise, research has shown some interesting results with resistance exercise. Pasquale (2008) expressed that soy protein has the protein quality of 1.00 meaning that it is equal in the quality of protein that it exists in other diary and egg proteins. To add to this point, Paul (2005) also stated that soy protein contains 2 high performance amino acids; Arginine and Glutamine which have a vital role in muscle recovery.
Bos et al (2003) cited by Roy (2008) looked at the increase in protein net balance and muscle protein synthesis which was defined by the consumption of 500ml of fat-free milk compared to a soy protein beverage. The findings were that the soy-based beverage was digested more quickly, which led to an increase in blood concentrations of amino acids carrying it to plasma protein and urea synthesis. The rise in blood amino acids in the fat-free milk, however, was a lot slower and continued rising for a longer time, providing more amino acids for muscle protein synthesis, but however, Bos et al. (2003) used resistance exercise, not endurance exercise.
The proposed study has extracted the methodology from Karp et al. s study (2006) using chocolate milk as a post-recovery aid. With each participant undergoing a V02 max test with a gas analyzer to determine an individual's maximum oxygen consumption and maximum power output.


The participants will also do a glycogen depletion trial starting from 90% maximum power output riding for 2 minutes and then 2 minutes onto 50% recovery; this will be carried out onto a lode bike; the intensities would decrease by 10% every time the participant s can no longer keep up with their cadence. This is then followed by a 4-hour recovery where 355ml of a drink would be administered straight after the glycogen depletion trial and also another 355ml 2 hours into the recovery stage. The last section of the test is the endurance trial, where participants have to ride as long as they can at 70% of their maximum power output. Blood lactate measurements will be taken before and after the glycogen depletion trial, 2 hours into recovery and before and after the endurance trial and analyzed; body hydration status will be taken before and after both exercise trials using the bio electrical impedance equipment.
References
1.Carlson, A. (2008) Protein Nutrition for Peak Performance, Peak
Performance, P2P Publishing, pp65″ "74.
2.Ivy, J & Portman, R. (2004) Nutrient timing: The future of Sports Nutrition,
Ed:Illustrated, Basic Health Publications.
3.Karp, R.J, Johnston, D.J, Tecklenburg. S, Mickleborough, D. T, Fly, D. A, &
Stager, M.J (2006) Chocolate milk as a post-exercise recovery aid. Journal
of Sport Nutrition and Exercise Metabolism, (16), pp. 78-91.
4.Niles, S.E, Lachowetz, T, Garfi, J, Sullivan, W, Smith, C,J, Leyh, P.B &
Headley, A.S. (2001) Carbohydrate-protein drink improves time to exhaustion
after recovery from endurance exercise. Journal of Exercise Physiology, 4
(1)pp. 46″ "52.
5.Pasquale, D.G.M. (2008) Amino acids and proteins for the athlete The
Anabolic Edge, 2nd Ed. CRC Press Taylor & Francis Group.
6.Paul, G.L. (2005) Soy protein and Performance Nutrition New Evidence" "
New Opportunities. The Solae Company Nutrition Brief, pp. 1-8.
7.Roy, D.B (2008) Benefits of milk consumption with resistance and endurance
sports. Director, Centre for Muscle Metabolism and Biophysics, Faculty
of Applied Health Sciences. Brock University, St. Catharines, ON. CANADA.
8.Saunders, J.M, Kane, D.M & Todd, M.K. (2004) Effects of a carbohydrate" "
protein beverage on cycling endurance and muscle damage. Medicine &
Science in Sports & Exercise, 36 (7), pp 1233 -1238
9.Williams, M.B, Raven, B.P, Fogt, L.D & Ivy, L.J (2003) Effects of recovery
beverages on glycogen restoration and endurance exercise performance.
Journal of Strength and Conditioning Research. 17 (1), pp. 12″ "19.