So how did the last cycling season go for you? Did you achieve your goals, or was it a major letdown?
If you formed a training plan and followed it, it is much more likely that you are currently enjoying the satisfaction of having enjoyed a successful season. Everybody needs structure and discipline if they are to achieve their goals.
But if you were gutted by your times and overall performance, it might well be that you did not devise a game plan. If that was the case, the good news is that you can now do something about it. So put things right for next season by doing the planning now.
And, don't forget that the best riders always learn from their mistakes.
The off season: Start your training strategy now
Every good training plan takes shape in the off-season in the cycling world. So with that in mind, NOW is the time to be thinking hard about next season because before you blink, you'll be lining up for your first springtime race.
However, before you concentrate on your race preparation, aerobic development, and speed training, you first need to work out your goals for the next season.
Write them down, and then start a detailed training and race plan. If you don't do this, your season will likely lack focus, and you may drift along.
Prioritize the races you want to do well in to create your training plan to ensure you peak at the correct times. Focus on two or three race days where you want to be at your best. Consider how much time you can spend on training for these races and think about how you can get the best results with the time you have.
It is also vital not to do everything on your own. Instead, seek advice and help from fellow riders and chat about your training plan with a coach to get their expert input.
One thing to remember: don't set unrealistic goals – keep them natural and achievable.
The perfect motivator
A plan is an absolute must if you want to achieve your riding goals. So please don't waste the off-season; make the most of your time.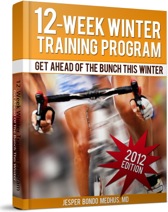 An excellent starting point to your training is the 12-Week Winter Training Program. This new e-book offers a wealth of information about winter training and includes a dedicated 12-week plan: the perfect motivator to get you through the cold and frosty months.
The 12-Week Winter Training Program has just been released and is selling fast. It is just $17 and would make the ideal Christmas present for any serious cyclist. Download your copy today.