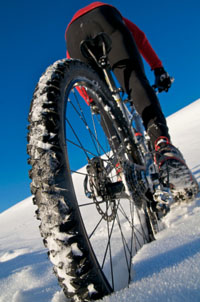 Now it's time to begin your winter training if you are a serious cyclist and live on the Northern Hemisphere. There are several old posts here on Training4cyclists that can be relevant for you when you plan your winter training:
Off-Season Cycling Tips – It's off season, so read this post before you start to plan your next season.
Winter Cycling Tips – Here are some winter cycling tips that optimize the success rate of your winter cycling program.
12 Week Cycling Winter Training Program – Here is an excellent winter training program that can be used for inspiration to develop a solid performance.
Weight lifting is a controversial topic for cyclists. Here is a post about weight lifting for cyclists and one about why squat is the king in weight lifting.
Despite global warming, it's very unlikely that you can go through this winter without doing indoor cycling. Here are som tips on how to achieve better results with spinning.